Gladstone's Land reopened to the public in May this year after a £1.4 million transformation to update the visitor experience. Here, Kate Stephenson, Visitor Services Manager tells us about some of her favourite things.
Saved from demolition by the National Trust for Scotland in the 1930s, Gladstone's Land, at the top of the Royal Mile in Edinburgh, is a traditional 16th-century tenement. It provides a glimpse into the lives of some of its former residents over the centuries – including the sights, sounds and smells that they would have experienced. On the ground floor, we have also created a new ice cream parlour and coffee shop, which weaves historical details into the design.
Here are a few of my favourite things!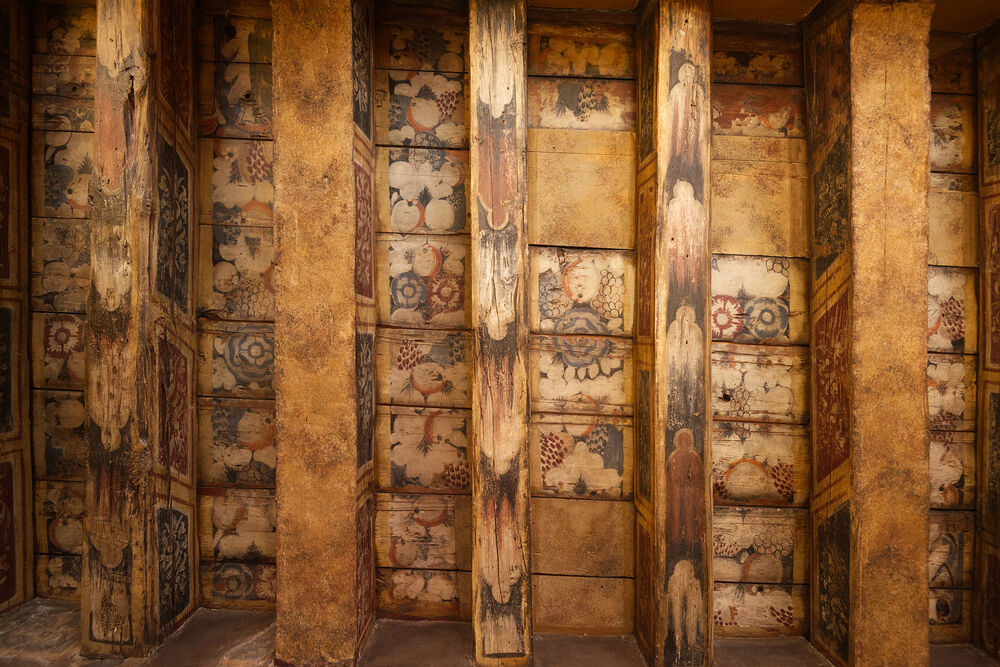 17th-century painted ceiling at Gladstone's Land
The painted ceilings
These were painted in 1620, and we know that precise date because the second-floor ceiling includes it in two places. They were almost certainly commissioned by Thomas Gladstone, who purchased the building in 1617. The ceilings are all beautiful, but I love the third floor in particular. It has birds and animals painted in ovals, including a monkey, a duck and a stork. They are almost cartoonish in their style and are just really fun images. What's so special about these ceilings is that no-one knew they were there for several centuries. They went out of fashion by around 1650 and were then covered up with a false ceiling. They stayed that way until the National Trust for Scotland bought the property in 1934 and uncovered them.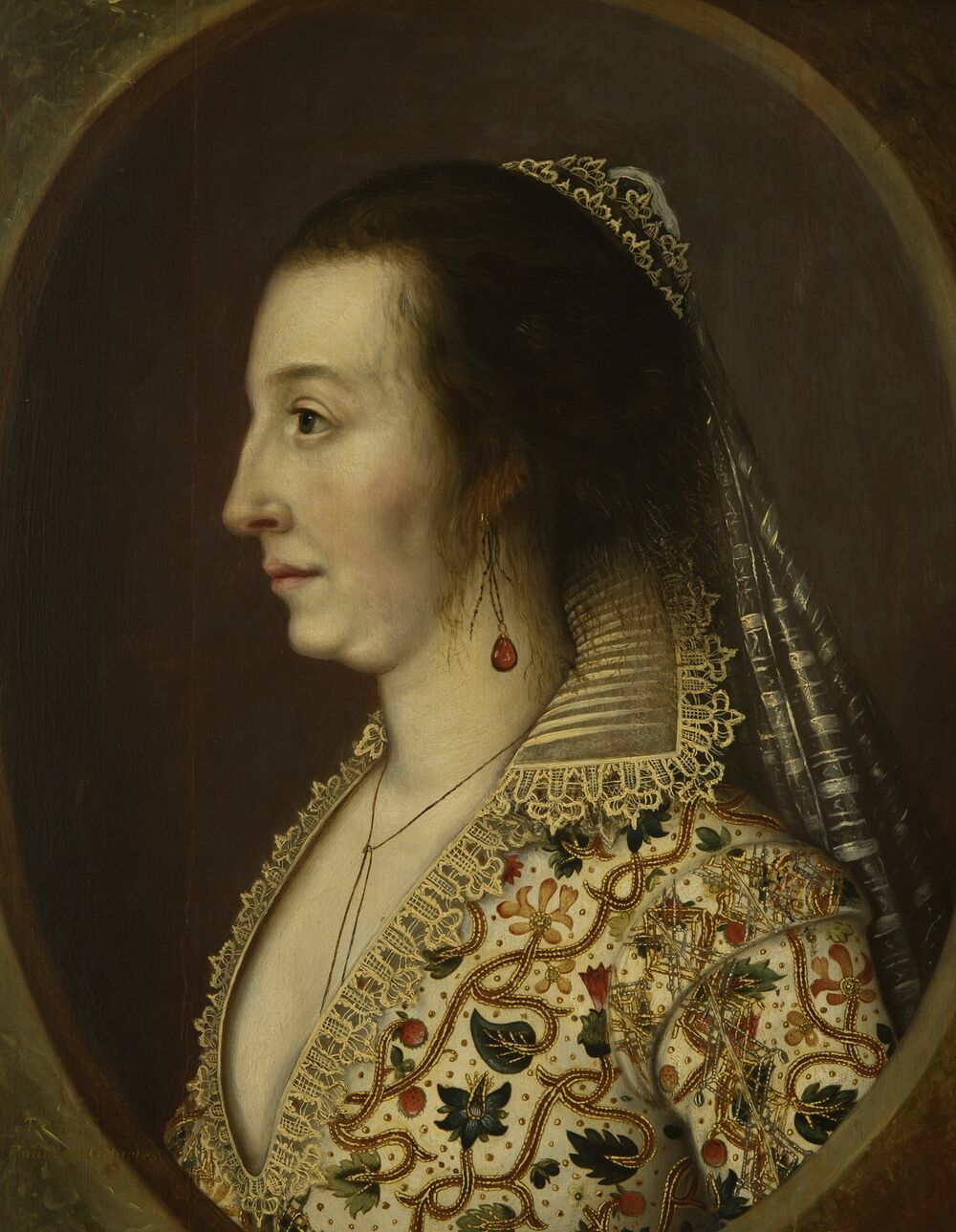 Countess of Shirley, attributed to William Larkin (c.1585–1619)
Portrait of Countess of Shirley by William Larkin
I love the woman who is portrayed in this painting, which dates to 1611. Lady Shirley was amazing. She was part of the Iranian nobility and married the English adventurer Robert Shirley in 1608. They were involved in diplomatic missions and adventures all over the world; the things she got up to were just incredible – particularly for a woman at that time. There is a story of her husband being attacked and tied to a tree. The countess seized a sword and fought off the attackers, saving her husband. They also survived an assassination attempt and possibly a shipwreck as well. There is another incredibly glamourous painting of her, painted by Anthony van Dyck in Italy. When her husband died, she returned to Iran where her husband's enemies tried to persecute her because of her Christian faith. She then fled to Rome, where she lived for the rest of her days.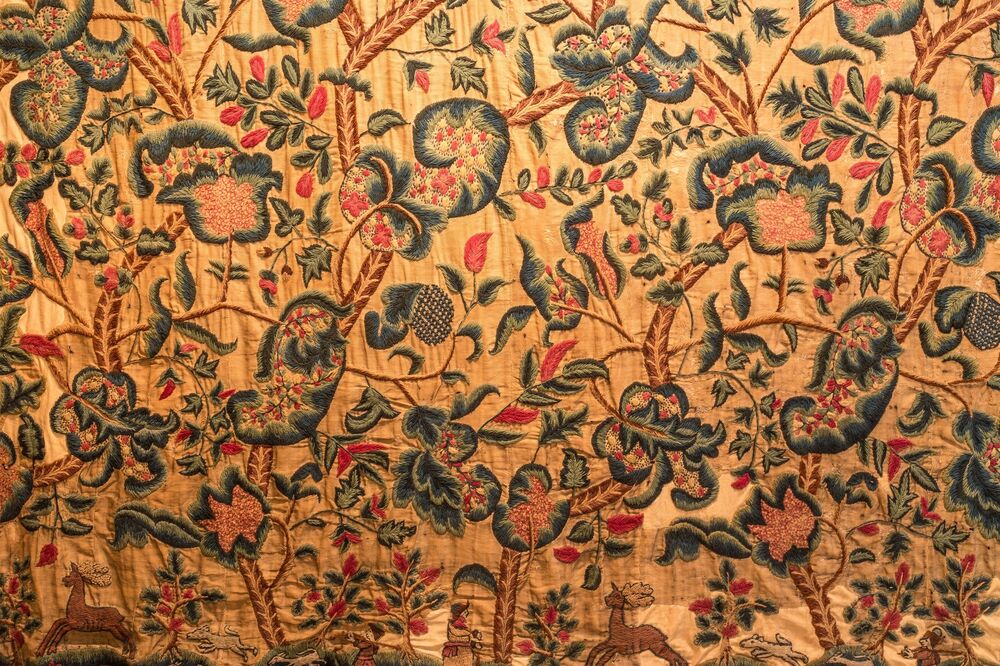 Tapestry panel at Gladstone's Land
Tapestry panel
This is believed to be a bed hanging, but we are not 100% sure. Tapestries were also hung on walls by the wealthy to keep the heat in, as well as for decoration. This panel has a cream background and is covered with crewelwork, which is a type of raised embroidery. There are flowers and leaves but what's really nice is, at the bottom, there is a hunting scene of men chasing down a stag. You don't often see this kind of detailed craftwork today, mainly because of the amount of time and work it involved. Yes, people are still hand-making things but you rarely see pieces of this size and scale, and the detail is incredible.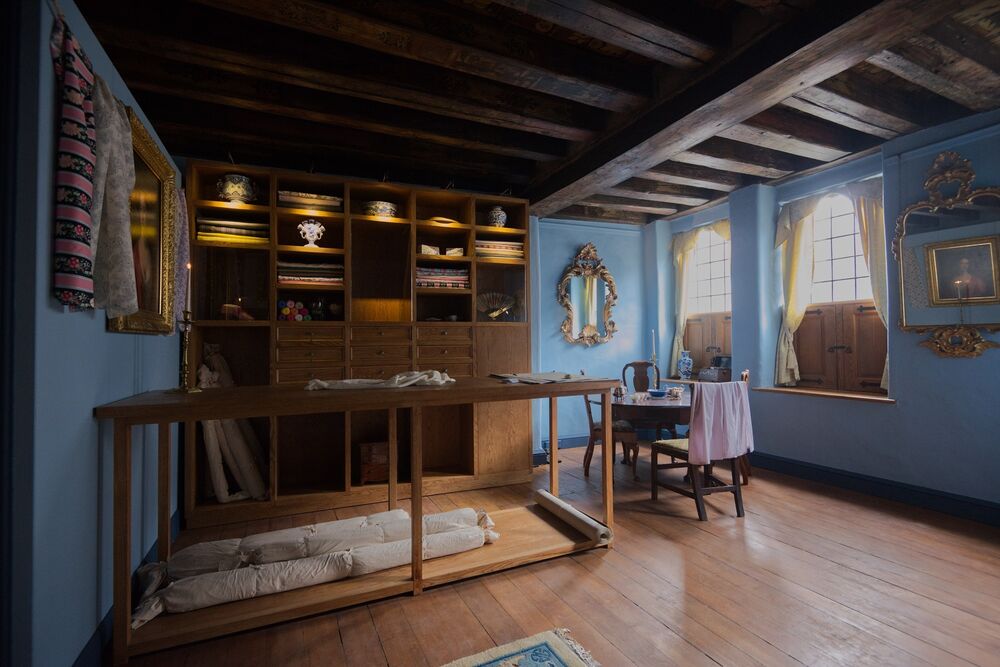 The re-created draper's shop from 1766
Draper's cabinet
This is something that's completely new and has been added as part of our re-opening. One of our floors shows an 18th-century draper's shop, which was once situated here in the building. To re-create this, we used furniture and items that were already in our collection but also had this draper's cabinet especially made for us. It is amazing. Not a lot of them survive today but we did have lots of drawings and images to work from as well as a lot of cartoons. This new cabinet has been based on those old pictures. And, because it's full of drawers and shelves, it gives us a great opportunity to display more from our collection.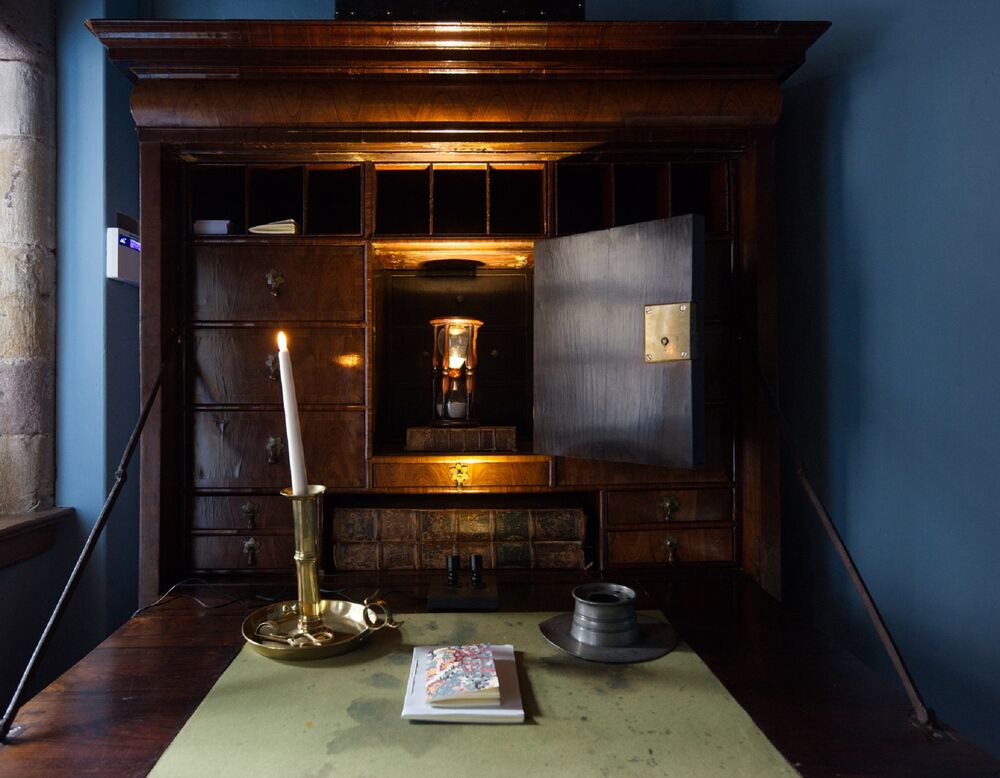 The secretaire at Gladstone's Land
Secretaire
This is an 18th-century enclosed writing desk. It's different from a bureau because it has shelves and a cabinet above. What's really fantastic about this item is that it is full of secret compartments –that was quite common in furniture at that time because banks were still in their infancy and people needed somewhere safe to keep personal and valuable items. Most of the compartments are tucked behind little inserts that don't look like they move, but pull out to reveal hidden boxes. Down at the bottom there is one sliding panel where you have to find the notch to open it and a little box drops out from inside the door.
Quote
"What's really exciting is that, when we were cleaning it, we found boxes that appear to slot into compartments, but we've never been able to find where those compartments are. We have looked everywhere but there's a little bit of me that thinks there is still a space for them – we just haven't found it yet!"
Visitor Services Manager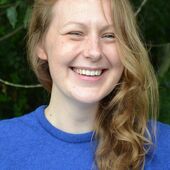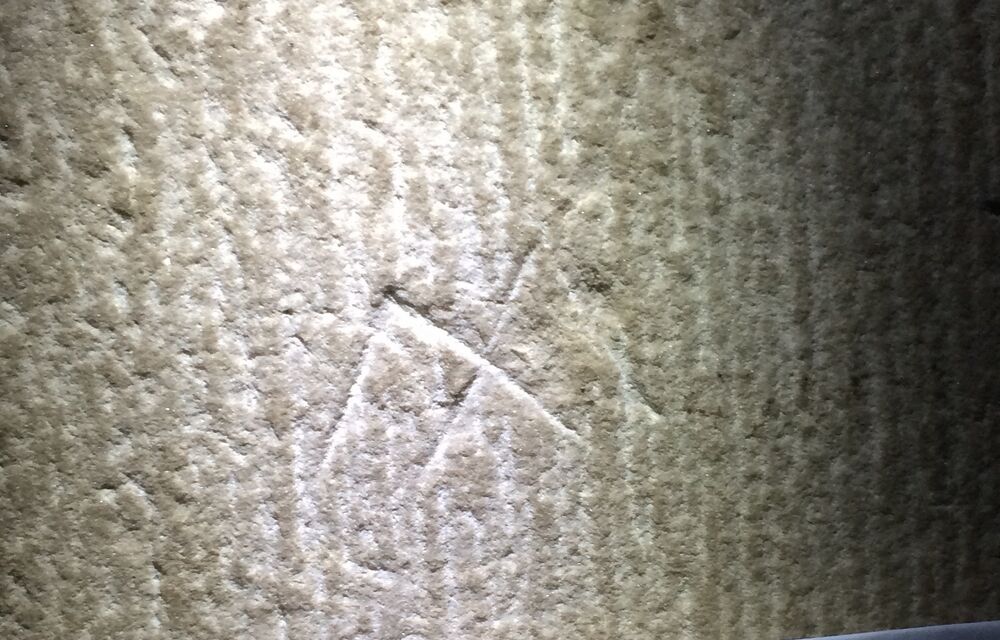 Masonry marks at Gladstone's Land
Masonry marks
These are carved details on the building itself. There are a number of masonry marks at Gladstone's Land, particularly around doors and windows. We think, given the date and placing, that they are 'witch marks' – designed to afford 'protection' against witches and evil spirits. They date from 1550 to 1750 and were positioned at entrances where people feared evil spirits would get into the building. There is one mark, an M or overlapping Vs, which is thought to summon the protection of the Virgin Mary. These marks are so incredibly interesting and serve as a reminder of how far we and scientific thinking have come.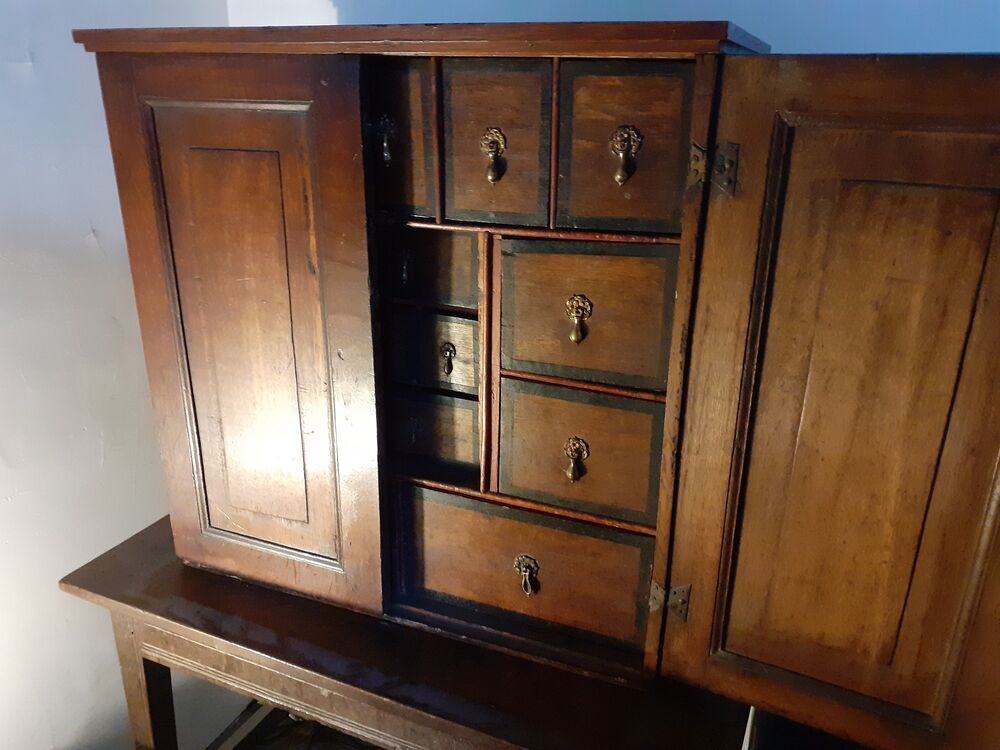 The spice cabinet at Gladstone's Land
Spice cabinet
This big rectangular cabinet dates from the 17th century. It has lots of drawers in it and we think it's a commercial spice cabinet or storage for a big working kitchen. Spices were very expensive in the 17th century and we know that there was a merchant here in the 1630s who was selling spices in the property. We have a lot of information about him, mainly from his very detailed will, and we have lists of the stock he brought to sell here, things like pepper, nutmeg, cloves and ginger. They would all have been stored in a cabinet like this, to protect them from theft and also to preserve the flavours.
The spectacular bed at Gladstone's Land
Bed
This massive bed partly dates to the 17th century! The Victorians were very fond of 're-creating' furniture and we are sure that this is a composite: you can see where additional parts have been added at later dates. The result is a really imposing, opulent bed. The bed was at the centre of everything. It all happened here: sex, birth, death ... this bed will have a lot of stories to tell!
Book a tour of Gladstone's Land to find out more about these stories from the past
---
This story first appeared in The Scots Magazine.

Stay in touch
Be the first to hear about our latest news, get inspiration for great days out and learn about the work we do for the love of Scotland.